Girbau Industrial products work in concert to curb energy and operational costs, while catapulting throughput and quality. Girbau Industrial offers a wide breadth of industrial laundry products that work seamlessly together for unrivaled productivity, efficiency and results, including continuous batch tunnel washing systems, open-pocket washers and dryers, feeders, ironers, folders, stackers and related machinery.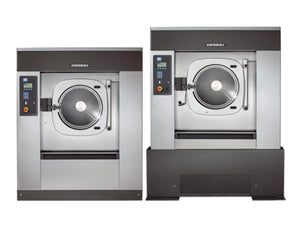 HS-Series High-Performance Washer-Extractors Stat or Tilt Model Washers
Capacity: 130, 190, & 225 lb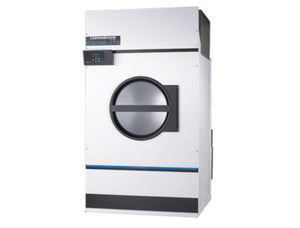 Open Pocket Dryers
Capacity: 175lb & 205lb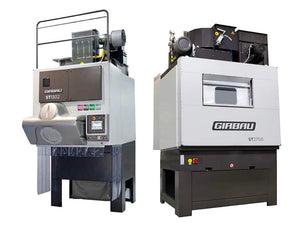 Vacuum Load Dryers
Capacity: 140 & 300 lbs
Configurable to meet the laundering and volume needs of medium - to large - volume laundry operations. Designed to drive down water, electrical and gas costs while improving productivity, deliver high-speed extract, unmatched durability and the ultimate in programmability!

Girbau Industrial's Continuous Batch Washing System processes up to 3,000 pounds of laundry per hour using less labor, water and energy.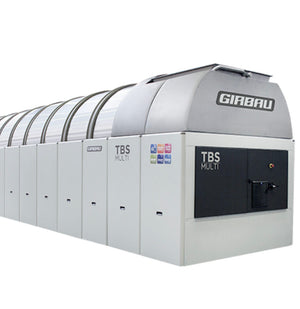 Continuous Batch Tunnel Washers
Available in 5- to 12-modules, each with 110 pounds of capacity, it processes up to 3,000 pounds of laundry per hour!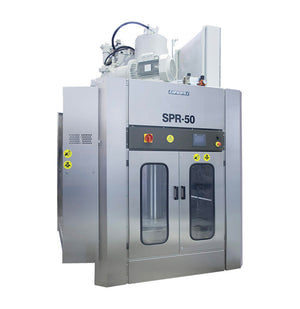 Extraction Press
The Water Extraction Press works by pressing up to 110 pounds of goods at a time into a round laundry "cake" with a flat base.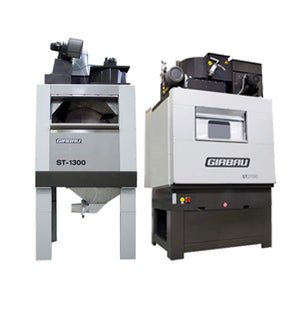 CONTINUOUS BATCH PASS-THROUGH DRYERS
ST-100 at 265-pound capacity for double cakes and ST-1300 at 140-pound capacity for a single cake

Girbau Industrial automation makes it possible to quickly and seamlessly feed, iron and fold a variety of flatwork items straight from the washer.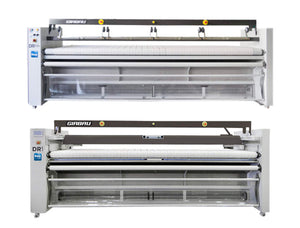 AUTOMATIC AND/OR MANUAL FRONT FEEDERS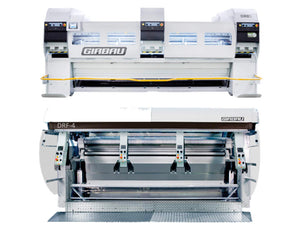 DR SERIES FEEDERS SOLUTIONS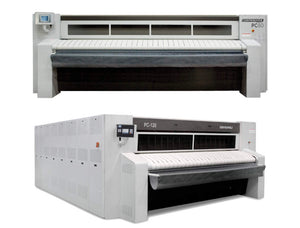 PC series flatwork ironers Gas or Steam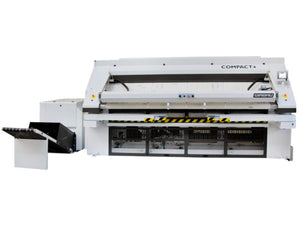 Compact+ 5-in-One Ironing Systems
quickly feeds, irons, folds, stacks and accumulates at speeds of up to 39-feet-per-minute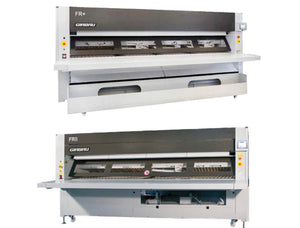 FR Series Multi-Lane Folders/Cross Folders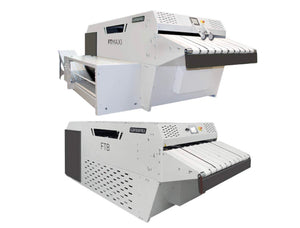 FT Towel Folder & Stackers

We support you on every aspect of your laundry project to ensure your success and efficiency. Ask us how we might help. From start to finish, Automated Laundry strives to assist and serve our customers through financing, laundry design, parts, and support materials. We look forward to helping you!
contact us
Sorry, there are no products in this collection.