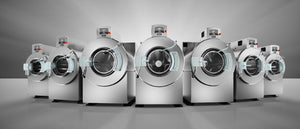 High-Performance Industrial Washer-Extractors
Capacity: 45, 65, 85, 105, 130, 160, 200
High-Performance Industrial Washer-Extractors
For high-capacity on-premises laundries whose operation demands the best of the best, there's no other choice than UniMac® high-performance washer-extractors. Durable construction, industry-leading efficiency and exclusive innovations like UniLinc™ and OPTispray™ combine to deliver lower costs and higher throughput than any other laundry machine on the planet. Whether you operate a hotel, long-term care facility or any other on-premises laundry, UniMac has a washer extractor for you. With a full line of versatile, industrial-strength commercial laundry machines, we have a solution to suit any on-premises laundry needs.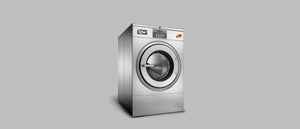 Cabinet Hardmount Washer-Extractors
Capacity: 20, 30, 40, 60, 80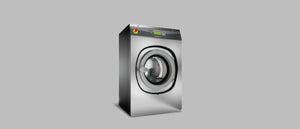 softmount washer extractor
Capacity: 20, 25, 30, 40, 55, 70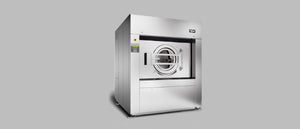 UY Series Softmount Washer Extractor
Capacity: 90, 125, 180, 230, 275
Hardmount & Softmount Washer-Extractors
Included are some of the smaller designs to meet the low-volume application needs of small on-premises laundry facilities or larger OPL facilities that want to add versatility to their commercial laundry equipment lineup, UniMac hardmount & softmount washer extractors deliver all the durability and performance you'd expect from the world leader in commercial laundry.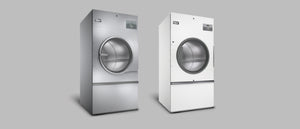 UT Series Single Tumble Dryer
Capacity: 30, 35, 50, 55, 75, 120, 170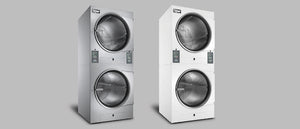 UT Series Stack Tumble Dryer
Capacity: 30, 45
UniMac® commercial tumble dryers are in a league of their own in terms of performance and efficiency. These durable commercial laundry machines achieve the perfect balance between drying temperature, airflow pattern and usable cylinder space for optimal drying results while significantly reducing utility and labor costs. To further reduce operating expenses, these industrial laundry machines feature innovations like the revolutionary OPTidry™ Over-dry Prevention Technology. Available in a variety of sizes, UniMac commercial tumble dryers meet the needs of commercial and on-premises laundries of all types and sizes.
Higher utilities. Wasted labor. Linen degradation. These are the costs of over-drying. Cutting-edge OPTidry Over-dry Prevention Technology stops your OPL tumble dryers at the exact moment that your ideal dryness level is reached, eliminating expenses associated with drying loads too long. Sensors running the entire length of each commercial tumble dryer lifter connect to a revolutionary rotary transfer switch to offer incredibly accurate readings throughout the entire load, ensuring that your on-premises laundry stops precisely at your desired dryness level. The result is reduced utility costs, decreased labor expenses and extended linen life.

UniLinc is a complete OPL control system that allows you to gather machine performance and maintenance data. Designed with both washer-extractors and tumblers in mind, our advanced controls and reports provide ease of use across all your machines to help you achieve maximum efficiency. With UniLinc, you can instantly access machine service history logs, receive error notifications, view performance reports and perform many other time- and money-saving tasks.
For on-premise laundry equipment design, you can rely on the proven performance of Automated Laundry Systems, to make your business simpler, more productive, and profitable.
Our design consultants can assist with laundry room sizing, safety, and ergonomic planning.
Schedule your consultation today.
CONTACT US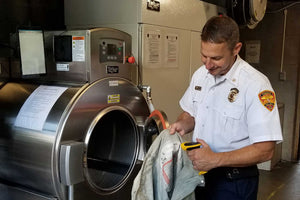 Team up UniMac's Industrial Washer & the PPE Drying Cabinet for real world demands.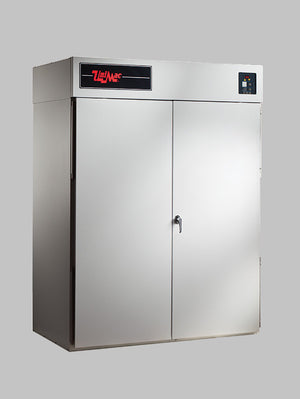 PPE & NFPA 1851 Guidelines
The UniMac® PPE Drying Cabinet can help you greatly reduce drying times. When it comes to cleaning PPE and keeping your first responders safe, Automated Laundry and UniMac can bring the equipment, systems, training and a variety of other resources to answering your call. We'll design a total solution to help meet your goals, PPE regulations, and NFPA 1851 standards.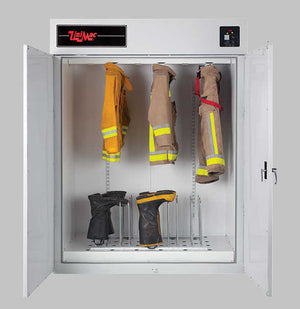 CLEANER GEAR. SPOTTLESS DATA.
Utilizing recognized processes to properly clean gear is just half of the NFPA 1851 equation. A true solution includes flawless record-keeping. UniMac's FireLinc™ system gives departments a high-power tool that makes record keeping as simple as a few button pushes and a scan of the PPE's bar code. Best of all, data is safely stored in the cloud and easily accessible from the app, ensuring your department always has a record that verifies staff is washing gear in accordance with established procedures.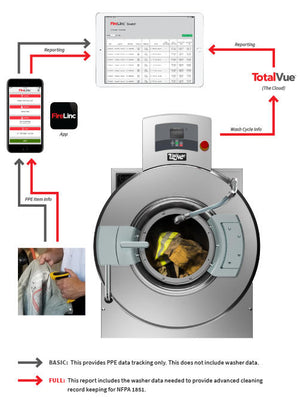 UNIMAC
Premium features, Premium performance, Lowest total cost of ownership.
There's no better time to upgrade or replace inefficient equipment.
contact us today for more details
Sorry, there are no products in this collection.